All or One
IMPORTANT NOTE: This is a print-and-play file which currently ONLY includes the necessary cards and tokens. The download DOES NOT yet include rules on how to play, though that will come very soon. Please read all text below (after the game description) for more details before potentially purchasing. We appreciate you supporting our continued efforts through this game's final production if you do decide to purchase this print-and-play!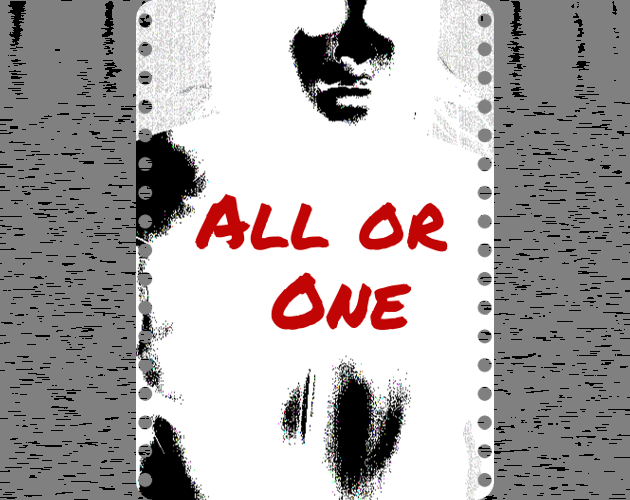 All or One is a hidden role card game focus on group social dynamics when placed under circumstances of extreme stress and tension.

The game begins with the players waking to discover they have been abducted for the purposes of an absurd behavioral experiment. Trapped in an a room without no exits except for a trapdoor in the center of the floor with the words "Feed Me" scrawled upon it. A set of "welcome" instructs are discovered and inform the players that they must select one among themselves to be sacrificed in order for the others to be set free. A hidden timer begins counting down, and if the group can not reach an agreement before it expires, gas will flood the room, killing them all.
At its core, All or One is a game of conversation, manipulation, ramping tension, and decisive action. Each player must work quickly in attempting to decipher the words and actions of the others if they hope to determine which hidden role personality types, each with their own unique motivations, may be trapped in here with them. As players work toward passing their individual behavioral study goals, they may begin to share information, honestly or otherwise, and a picture of potential outcomes begins to form. Players can strike bargains, make alliances, protect each other, betray each other, discover and reveal information about one another, inflict violence upon each other, or perhaps even discover an alternative means of escape; or maybe they'll just simply gang up on one poor soul. Through purposefully freeform, emergent group dynamics, no two games of All or One will ever play out the same.
How far will you go to ensure you get out alive... if that's even the personal end goal you are trying to achieve.

This game was originally designed in 2014 and then successfully Kickstarted in October of 2017. It has been in an unfortunately long stage of final production since then. This print-and-play represents the final production form of the game, barring a few text changes or other touch-ups, this is essentially the game as it will soon be printed and produced.
Currently the print-and-play file only contains all of the game cards, as well as printable versions of player tokens. It does not yet contain an official rulebook or other information on how to play, that will be coming very shortly and the file will be updated; it is not expected that anyone will purchase this print-and-play before the rules are available, but it is being publicly posted now in order to fulfill a promise of getting this print-and-play into the hands of our Kickstart backers by this date.

Full rules will be added roughly within the week. Video tutorials on how to print and put together the cards as well as an overview of how to setup and play will be coming within roughly the next month.
Due to constant adjustments to card text, and loss of over a year of social gathering, we have not had a chance to fully playtest all of the cards as they are currently written. So, any updates to card text will be shared via a direct update of the print-and-play file located here on itch.
Please note, we are not looking for game design feedback; this game has gone through extensive development, and we are very happy with where it is mechanically and thematically. However, we are accepting feedback on any confusing elements, be it card wording or interactivity of elements, as well as any confluence of events which appears to break the game from working as intended -- given the sheer amount of possible randomized combinations between all of the various cards, this is not something we can fully account for on our own, but we believe we've cleaned up the most obvious of such potential issues.
Finally, if you happen to have purchased the print-and-play before the rules have been made available here, you can find older videos, including a rules overview and live play sessions, on our personal website: http://robothighfive.games/all-or-one-about
Even though the videos there will be outdated, the basic mechanics have pretty much remained consistent and the videos should still help you figure out the nuances of how, maybe even enough to grasp any card changes on your own.
Purchase
In order to download this game you must purchase it at or above the minimum price of $9.99 USD. You will get access to the following files:
all_or_one_print_and_play.pdf
38 MB